Since the non-beta android seems to have become unusable (half of items not loaded in app, only on website), I gave the beta another (third) try.
The only critical issue I have is that Offline Mode is off by default and I have not managed to enable it:
The setting is called "Offline enabled" with an on-off rocker. The wording is confusing - why not call it Offline Mode?
Trying to enable it brings you to a black screen ("enabling offline mode") with a spinner, that spins, and spins, and spins. No progress indicator to tell the user anything is happening. After a few minutes I restarted the app, turned off VPN (this had caused problems before) and tried again. With the exact same result. Skritter Team: what am I doing wrong?
Absence of Offline Mode was the main reason for reverting to the non-beta twice. Now that non-beta is unusable I'm stuck between a rock and a hard place.
Canvas area still unclear, as mentioned by other users too. A slightly different shade for the buttons area might already fix this.
Back button in a strange place and invisible when you need it, as mentioned by other users too.
App slows down tremendously sometimes:
after going to dashboard and back to study
after adding new items
in the middle of a study session
Not sure how consistent this behavior is. Closing the app and restarting gets responsiveness back to normal.
Counter is not updated during study sessions. I.e.: you get your queue down to 0, go back to dashboard and see that the queue is not 0.
When manually adding 5 items, the non-beta used to prompt all 5 items for writing, then all 5 items for reading, then all 5 items for tone, then all 5 items for definition. That seemed more effective than what I encountered now: WritingWord1, ReadingWord1, ToneWord1, DefinitionWord1, WritingWord2, ReadingWord2 etc.
(edit: and they stay clustered on second round of reviews)
Settings are not all properly transferred to the beta; for example goal mode setting goes back to its default ON.
And then this one came along: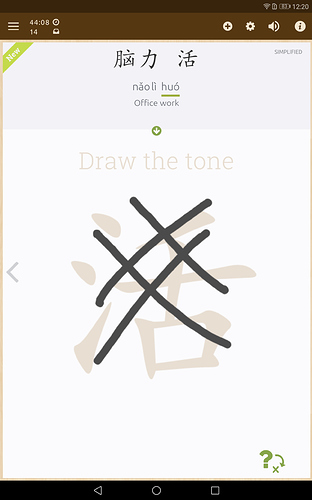 I cannot progress beyond the tone part, and the only solution was to ban the item entirely.