We've submitted 3.5.4 (300447) beta builds to Android and Apple and they're waiting for review at the time of posting this.
Here are some things to keep an eye out for in the builds.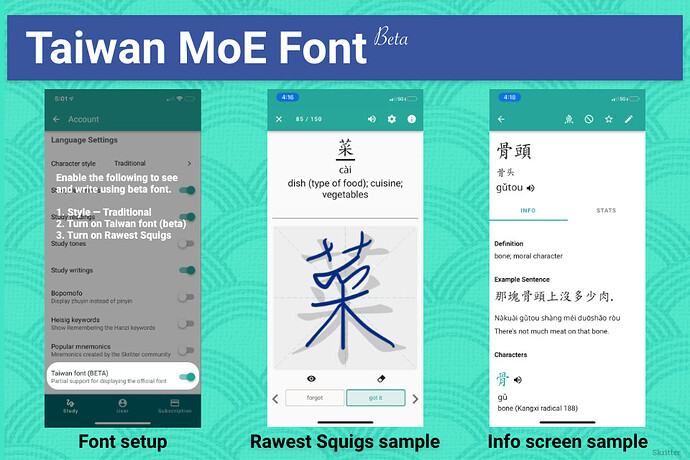 Added a new highly experimental Taiwan font option for accounts set to traditional
Deck section word scroll position will now stay preserved after studying an item from the Info screen's "learn now" button.
Deck section scroll position stays preserved when going in and out of a deck section as long as the rejuvenation alert is hidden.
Single kana and diphthong definition cards will no longer be showing in the app to avoid displaying unnecessary cards in the app
General bug fixes and improvements
What to test for
Mostly general testing for this particular build. Deck section scroll position is improved a bit when entering and exiting words and deck sections.
If you're studying Traditional Chinese characters you should certainly give the new Taiwan font (BETA) a spin. Turning this toggle on will load the Taiwan MoE KaiTi font from the web inside the app, and replace all instances of the character on study cards, and the Info screen.
Because the font doesn't line up with our stroke order hints we've intentionally removed the "trace the stroke" card from the learning flow to reduce stress.
Happy skrittering!