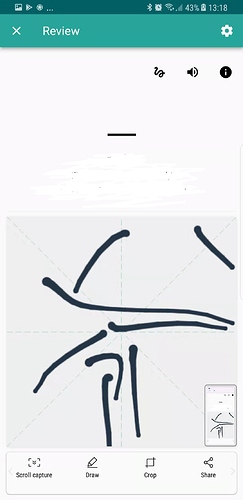 Can you tell what character this is? I cant, neither can my Chinese friends or anyone else. Yet, this is a perfectly fine character in skritter. After the next stroke (can you even tell what the next stroke is going to be?) I will get a perfect score for this character. Not even keyboards with handwriting function apps that are made to recognize sloppy written characters on your phone or pleco as I use in the example below will recognize this.
Now, when I ask a Chinese friend to use skritter, they never get the characters right because they might write like this: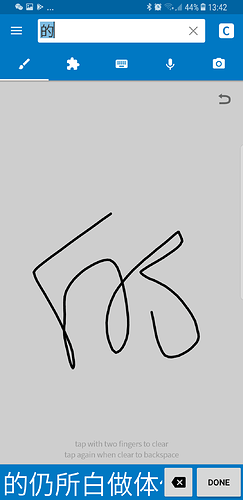 I asked my Chinese friend to write the character 的 as quickly as she could in pleco, and look at the result. First character to pop up in the selection, same thing if she writes it on any keyboard with handwrite function (and yes, that is a perfectly fine way of writing that character with cursive writing 草书) .
This issue has been around from the beginning of skritter (has it been 10 years?) and it still has not been fixed. You can pretty much write any character like this and Skritter will say its ok. As long as the stroke order and the direction of the stroke is correct you can pretty much write them where ever you want and thats apparently fine.
This is not acceptable and its almost a bit shameful since Skritter not only is an app made for writing characters (skrittering) and takes pride in that fact, but it also costs a pretty hefty sum of money. But when it boils down to it, Skritter cant even compare to the most simple free apps when it comes to writing and recognizing characters.
Sorry for being so blunt about this, but this is a HUGE problem. Skritter forces advanced students to write stroke by stroke and limits them to writing the same way as a 1st year Chinese elementary school student, not giving them any opportunity to advance into a more fluid style of writing, while it allows beginners to place strokes wherever they want.
For advanced students, Skritter needs to evolve beyond the point of stroke by stroke recognition and see the character as a whole.
For basic stroke by stroke students, it needs to recognize the follow up stroke depending on the location of the previous stroke written. Sometimes skritter forces you to write the follow up stroke at the wrong location because it has no idea where the previous stroke was written.
This issue should have been resolved years ago, actually, it should never have been an issue to begin with. Please skritter team, resolve this issue once and for all because it really is a super serious problem.
Btw, the character in the first picture was 荷 Skritter is probably the only can recognize that one.