Skritter 2.0 for Android is showing me the same cards over and over again despite me marking them as "too easy". I am unsure whether this also happens on the desktop or iOS version.
For example, Skritter will show me the exact same card as much as five times in ten minutes despite me marking the card as "too easy" each and every time.
Eventually this became so frustrating that I started capturing screenshots to document what is happening. I really like Skritter, but because this issue impedes my ability to study effectively, I'm thinking about cancelling my subscription and going back to Anki.
Example 1
The screenshots below show that the rune for 女 was shown 4 times in 9 minutes despite being marked "too easy" each time. It's as if Skritter completely ignored my input. In each instance, I captured a screenshot showing that the rune was marked as "too easy" and a screenshot showing the scheduling information.
The scheduling information indicates that the rune was supposed to be shown 2 days later, but instead the card was shown 2-3 minutes later.
During this time my phone had a strong connection to my university's WiFi. The connection was not lost at any point.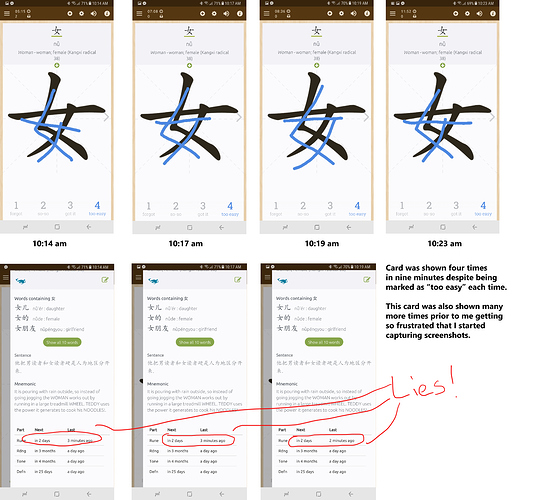 Example 2
Similar to the previous example.
[Image removed because new users are not permitted to post more than one image]
Example 3
Similar to the previous examples.
[Image removed because new users are not permitted to post more than one image]
Similar issues have been reported multiple times by other users
A similar issue was described 8 months ago in this post by user @hz. Here are a couple of excerpts:
The problem I've having now is that "got it" and "too easy" are both functionally useless. There is nothing I can do short of banning a word or character that will prevent it from popping up again and again in my queue. Worse, there's no diversity in my studies: because of the frequent repetition, I'm only getting exposure to about 10 terms. Even if I skip through (and this is another problem, but I'll post it in the Beta subforum later), marking at either 3 or 4, it just comes back.
To be clear, these aren't all words that I've already gotten wrong today, or that I have a previous history of making mistakes with. A lot of these terms are new ones just being added to the queue. If I don't mark them as "too easy" on their very first appearance, they're on me like a social disease from that point after. And I'm noticing that a lot of ones that I DO mark as too easy from the get-go still show up again a few minutes later, especially after making a trip to the dashboard to get the counter to reset.
Another similar issue was described by user @kokaku
i tried using Too Easy on a word (hao3 because it appears in so many other words that I'm doing it all the time) and after that hao3 showed up even more (like every 10th item or so) - maybe something isn't working quite right with marking a word Too Easy?
i just saw er4shi2/writing at 0721EST/Dec8 when i was supposed to see it in 2 days
now the word list says i should see it in 5 days

definitely something goofy going on with word delivery on the Android app
the website does seem to work much better when it comes to showing new words vs review words
User @hz also commented on this post by @kokaku
You know I've been having massive repetition problems. Just out of curiosity, I checked a couple of terms that keep recurring today despite my having answered them correctly. One was 睡衣, which stats say will occur next in one month, last time an hour ago (I haven't studied in about an hour). Did another one, tone review for 豐收. Next: in a year. Last: an hour ago (also marked correct at the time). I don't know if there are differences between user accounts in how this scheduling is processed on the back end, but those are some pretty weird numbers. Why would I be asked to review for a second time today a term I just did correctly an hour ago that isn't scheduled to appear for another year?
User @kokaku also reported this issue a second time, in a post titled "Caught in a learning loop"
I'm seeing the same couple dozen or so words over and over again, even though the timings say that I shouldn't be seeing some them for days (ex: yi1/one keeps showing up even though I mark it too easy). Meanwhile, there's plenty of words in my entire history that could be reviewed yet aren't (right now, I'm in a review-heavy mode of going through Skritter Chinese 101 while adding in Radicals).

I feel like the algorithm needs to be a little smarter than it is. Some words seem to come up often and others hardly ever (and then when they do finally come up, I've forgotten it so I get it wrong so it enters heavy rotation). I'd rather a bit more evenness to the learning process.