Hi,
For the last month I've been pretty much struggling to get my due items done daily. I spend like 40-60 minutes daily (split in 2-3 sessions) just to clear out the list, without getting to add any new word. I estimate my amount of daily due items is somewhere between 300-400. I thought this might have happened because I have a lot of vocabulary, but a friend who has just a few hundreds less (we're talking of numbers below 1000 words) is getting just 40-60 due items per day.
I've became a "slave" of the due items and I wanted to get clear if this can be a bug or what. Because sincerely, I don't think this is helping me progress on my Chinese. But the opposite, really making me consider if I should let Skritter go.
This is a screenshot of what Skritter 1.0 calculated yesterday that would be my due items for the next weeks and what it has calculated today: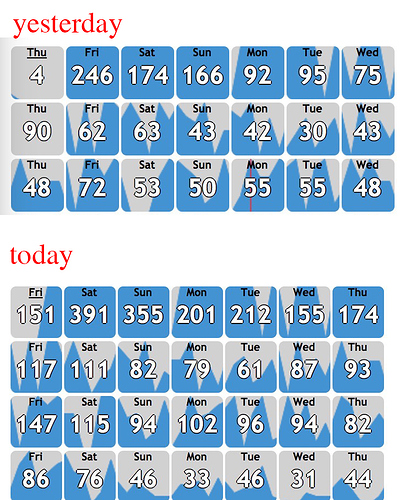 As you can see, the due items for the following days have increased considerably without adding new words.
I really don't know what to do, the situation is unbearable. I can't believe this is normal as I might have to spend more than 2 hours daily if I want to make any progress.
Anyone can help me? Thanks!