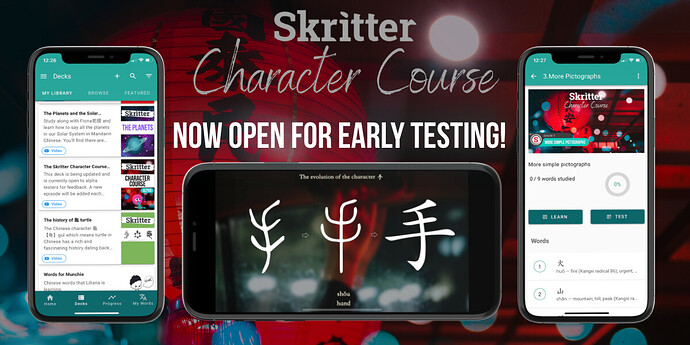 大家好!Hi everybody!
Our character course has now been opened for limited testing to a selected group of beginner students, who have been contacted directly via email. If you haven't been contacted, you'll have to wait until the course opens up for more users. Stay tuned!
At the moment, 5 out of 17 episodes are available, and we will release at least one new episode per week until we're completely done.
Please note that the course is designed for complete beginners with no prior knowledge of Chinese characters. If you've learnt some characters and know a thing or two already, some things will be easy for you, particularly in the early episodes.
We're eager to hear what you think about the episodes and what we can do to improve, both regarding the content and the videos themselves. You can leave comments on Vimeo directly (just click on the screen to stop the video and leave a comment), here on the forum by replying to this thread, or by email directly to me.
When you leave feedback, please let us know a little bit about your background when it comes to Chinese characters, as someone who is completely new to Chinese might react differently to someone who has studied 100 characters already!
If you have any questions, you can contact me directly or post in this thread. In the meantime, enjoy the course and good luck with your studying!
Best wishes,
Olle Linge