In the latest version of both the Chinese and Japanese apps, I've experienced a number of momentary hangs – times when I tap the screen and nothing happens.
Most often this happens between cards. I'll be looking at the answer, I'll tap the screen, and then nothing happens. I might tap once or twice more, thinking my first tap was missed, after which the screen finally changes to the next card and the extra taps register as (usually incorrect) input to the next card.
When I experience these pauses, it is usually about a second or so. Sometimes 2-3. Once when this happened I tried going back and re-advancing: it was quick the next time, but I went back and forth a few times and occasionally I got a delay
The most pronounced case was when starting a review. I pressed the start button and the app froze mid-press animation: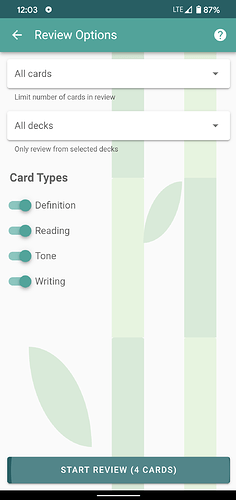 It was frozen for several seconds – enough for me to think "this is odd" and decide it was worth screenshotting, shortly after which it spontaneously resumed. I'm guessing 6-7 seconds elapsed.
I tried force quitting one of the apps, and as best as I could tell it returned to being snappy.