These past few months, we've turned our whole focus 100% towards getting a new Japanese app out for iOS based on a new internal beta. What happened to the old beta? The short of it is that we ran into some technical issues and overall weren't jazzed about it. So we took the time to move Skritter forward and make some big changes to deliver the learning experience we've always wanted to give you. A mobile app that teaches you how to read and write new words (not just review them!) and that looks cool.
While I've studied Japanese and like making a fool of myself in front of my Japanese friends, my current language focus and motivation is mainly for Chinese. So this past weekend I did what any self-respecting regular Skritter user who also happens to be a developer with access to the source code would do–I made myself a rogue build of the app for Chinese and did some studying. Here's some of my impressions and highlights not as a developer testing the app, but as a regular user using it for daily study:
Warning! Neither Chinese nor Android builds are going to be released in the very near future. Updating Japanese on iOS is our first priority. This was pure self-indulgence. Also this review is based on an alpha build of an unreleased product, the final version may vary.
To give some context, I'd had one of my regular morning Chinese lessons on Friday, and we spent part of the time going through a textbook with some new vocabulary in it. I wanted to learn to read/write these words from one of the chapters at the end of the book using Skritter.
The first thing I did was load up the textbook and look for the right chapter. My teacher and I like to jump around non-sequentially to relevant topics, so studying the book from start to finish with Skritter and auto-adding vocabs sequentially didn't really work with what we did. Thus I hadn't gone through this book with Skritter a lot. However, I was pleasantly surprised at the calculated stats for vocabs and sections in the list that I hadn't studied. Seeing my passive knowledge of vocabs I've learned from other lists reflected here is a confidence boost, and also helpful in figuring out where I'm at. E.g. without studying a standardized test directly, I can still see how much of the vocabulary from that test that I know.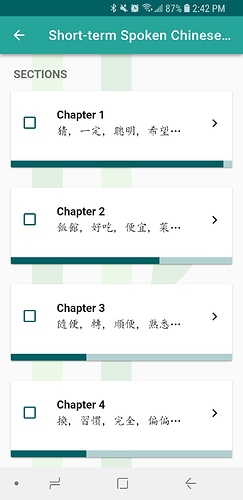 Learn mode is the best. The new app features three main activities–learn, test, and review. The learn activity takes the next 5 vocabs in order from a list or section and teaches you their meaning, pronunciation, and writing. It's like the website's teaching mode, but if it went to the gym. We created a new "preview" prompt type to introduce you to new vocab and give it some context, and after that emphasize the writing, taking you from tracing strokes to raw squigs mode. This was perfect for me since I already knew a lot of these vocabs orally, but not their written forms. Once you finish a learning session, the items for these vocabs are added to your queue.

Test mode is next best. Do you have a dictation test tomorrow? Or just want to double check what you just learned? Don't go into your review queue, do a test! You can select all sorts of options for what subset of cards to see both on an individual deck ("list"…we're calling them decks in the app. How do you feel about that?) level and on a section level. After I learned something, I'd do a section test. It'd quiz me on everything I'd learned that day.


These new modes are optional. If you want to manually add some vocabs and go through your SRS queue old-school style, that's totally still an option. Study how you want!

There's no auto adding. It's not in the app (gasp!). You know better than we do when you're ready for new material and where you want to get it from. When I first started Skrittering, I trusted that the app knew better than me and so I'd overstudy my queue way too much in hopes it'd throw me a new vocab. I thought that using the plus button was cheating. Later, I'd flipped to the school of "manual add only," but even still, in the normal review queue, I was never sure what list I would be getting new vocab from since I have a few active lists. I was a little apprehensive about this feature's complete removal at first, but after living with learn mode instead, I'm not going back to it.

Review mode is the classic Skritter SRS queue you know and love. It's by and large completely unchanged aside from some minor UI and layout tweaks. I haven't used the SRS review queue much in the new app. Because the other activities targeted exactly what I wanted in manageable, predictable chunks, I didn't care about it. Yes I need to keep up with it for long-term retention. But in terms of using the review system to learn the stuff from my lesson before my next class and double check that I do know it? The review mode has almost no use there to me anymore. I'll keep studying it (and get my review queue down to acceptable amounts #2019Goals). It's classic Skritter, but it's not the only way to Skritter anymore, and rightfully so. SRS works to help you remember things you've already learned. It's great for efficiently retaining lots of information long-term, not for first time encountering information or testing oneself on a certain subset of recent vocabs. It's an equal part in the memorization process, but it's not the only part anymore that Skritter offers (if you don't want it to be).

Little things like the themeability and stroke highlights kept things feeling cool. Skritter cyberpunk mode, anyone?


It still needs a bit of polish. Things like banned items don't always get factored into calculations yet, some things weren't optimized yet and were annoying to load. There are lots of Chinese-specific bugs to fix up, but in half a day on the weekend I was able to get a well-used account with lots of vocabs and trickiness (studying traditional, lots of banned items) to work, so I would not say that a Chinese release will be a super long way away once the Japanese apps are stable.
We're targeting a Japanese iOS App Store release in mid-December (Android to follow after once the dust has settled a little), so if you want to get an early preview of what's to come, stay tuned and start studying some Japanese (or continue studying Japanese)!
Let me know if you have any questions or comments about the new app, I'll do my best to answer them!