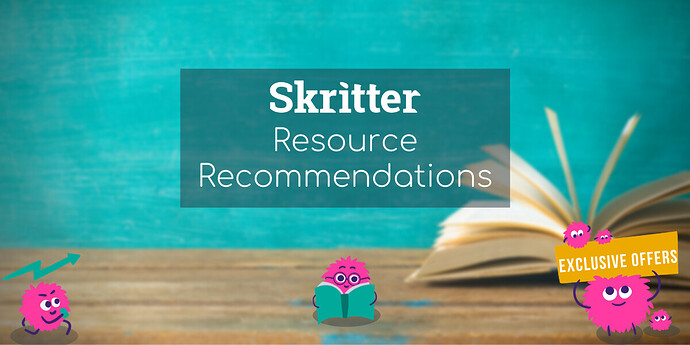 Deals, discounts, and exclusive offers for you!
Skritter earns a small commission from each purchase made using the links. It also helps us deepen our relationship with these companies, and negotiate even more deals for all of you in the future. Keep an eye on this space next week for a few more deals and offers for other brands we're working with.

Happy studies!
Outlier Linguistics
Study along with the Outlier Linguistics Chinese Character Masterclass directly in Skritter.
Boost your character knowledge with the Outlier Dictionary in Pleco (which you can access directly from Skritter).
Yoyo Chinese
One of the most popular YouTube channels for learning Chinese, and a great course-based language platform. The Yoyo Chinese Character Course 1 and Yoyo Chinese Character Course II decks are also available on Skritter for study!
Use code SKRITTER on check-out to save 20% on any purchase.
Fluent Forever
A best-selling book (by the same name) that turned into the most crowdfunded app in history! Learn about how the app works here. The Fluent Forever Japanese study deck is available on the Skritter: Write Japanese app, and the Fluent Forever Chinese study deck will be out soon (pending Fluent Forever team approval).
Discount Codes (which give us affiliate credit)
SKRITTER30O12 (30% off 12-month subscription)
SKRITTER30O24 (30% off 24-month subscriptions)
SKRITTERJP (2 free months of study time!)
Du Chinese
A powerful tool that makes learning Chinese simple and effective with loads of reading and listening materials sorted by HSK level.
Use code SKRITTER10 and save 10% off your first subscription purchase.
Language Mastery–by John Fotheringham
John Fotheringham has created brilliant books full of tips, tricks, and resources that will help you build a personalized immersion environment using fun content from anywhere. He's also the host of The Language Mastery Show, a 100% free Podcast which is full of interviews, and study tips.
These books are available for both Chinese and Japanese with custom-tailored content for each!
Language Mastery Chinese
Language Mastery Japanese
iTalki
One-on-one language lessons from anywhere. We really don't need to say more about this service. It is one of the best ways to keep your language learning going during a global pandemic!
Hacking Chinese
The most popular Chinese language learning blog out there… and run by @SkritterOlle! Olle has challenges, resources, and posts about nearly everything related to Chinese learning. He also has two courses and a Hacking Chinese book that are just incredible!
Skritter Affiliate Course Links:
Hacking Chinese: A Practical Guide to Learning Mandarin
Unlocking Chinese: The Ultimate Guide for Beginners