It's alive!
As of December 3rd, 2018, the Skritter: Write Japanese application is available for download on the iTunes App Store. The current version of the application is 100% free to use and focuses on the goal of helping anyone learn the basics of the Japanese writing system-- from Hiragana all the way to some high-frequency Kanji!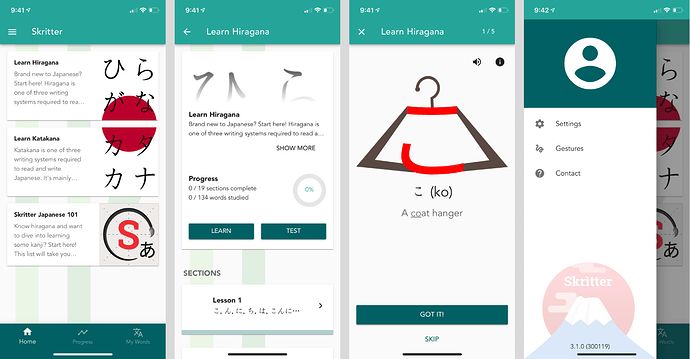 Yes, you read that correctly. Hiragana, Katakana, and basic Kanji decklists are 100% free to use for anyone. No subscription necessary to start mastering the basics of Japanese. Just open the application and start learning right away.
If you've been learning Chinese on Skritter and wanna explore what's coming soon to your device, or just finally take the time to learn a little bit of Japanese, now is your chance!
What's New?
Unlike previous versions of Skritter, we've focused all of our efforts on providing a more streamlined study experience. One that focuses on teaching and testing new materials before you even think about reviewing them and committing things to long-term memory. Our goal is to provide all of you with more control over how and when you learn new things on Skritter, and we think you're going to like the changes we've made!
Now, you choose the decklist and the section, and we'll take care of the rest. Learning mode helps guide you as you learn new Kana and Kanji, while testing mode allows you to customize your testing experience and focus on whatever vocabulary you wanna cram into your brain at that moment. The perfect weapon for preparing for quizzes and tests in the classroom, or just challenging yourself on things you've just finished learning on Skritter.
What's Next?
These two modes are so dramatically different from previous versions of Skritter that we've decided to release this conservative version of Skritter and start generating feedback from all of you and new people not familiar with Skritter without delay.
Account access, and the ability to unlock review mode, access to hundreds of vocabulary decklists, starring, banning, custom mnemonics, etc. won't be gone for long, but we wanted and needed to start generating some feedback on this system first. So that's what we've decided to do.
Development Efforts
Now that the application is in the store, it's time to focus our efforts on the things we know we need to make better. Here are the top two things we're focused on at the moment.
Improving Kana stroke tracing for Learning Mode and stroke order hints provided in the app.
Before you write your feedback about the app. I'll just go out and say it-- Kana stroke tracing is a little rough at the moment. While the tracing dot does a great job of giving you a general sense of how Kana is written, there are certainly some areas for improvement.
Considering that Skritter Japanese on iOS offers zero ability to write Kana at the moment, we still see this as a big win for the application. But, we know we can make this experience better. So we're doing just that. We have a plan of attack for making them better, and we'll be working on that while we gather and collect feedback on the app and the new study flow.
Bring back the log in button and the ability to create new accounts on iOS.
What is in the store right now is a guest experience. A chance to explore Skritter: Write Japanese and see if this application is the right fit for those interested in learning Japanese. However, it is far from the experience that you've come to expect. Especially if you're already learning Japanese and have hundreds or thousands of things already in the queue.
We have been testing review mode internally for a few weeks, and while we've made some serious improvements, we're not 100% satisfied with the experience just yet. The largest change we're working right now is the ability to focus on the mistakes you've made during a review session. Unlike previous versions of Skritter, you'll now be able to study the mistakes you've made during a review session and decrease the chances that you make the same mistakes in the future. Skritter's ultimate goal is still long-term retention and helping you learn to read and write with confidence, and this is a huge step in that direction.
We're so very close to getting things working the way we intend. And, once we do we'll be rolling out a beta update to all of you to start gathering feedback while we continue to test the signup process for bringing new students into the Skritter experience.
Do you need to review on iOS?
If you're currently using Skritter 3.0.20 than this update is probably going to feel like a step forward and a step back all in one. We'll be rolling out updates quickly, but if you need need to review and don't wanna settle for the classic iOS experience in the store you'll wanna rollback to the previous version of the app for a bit. Here's how you do it:
Open TestFlight
Select Skritter: Write Japanese
Scroll down to Previous Builds
Select 3.0.20
Press Install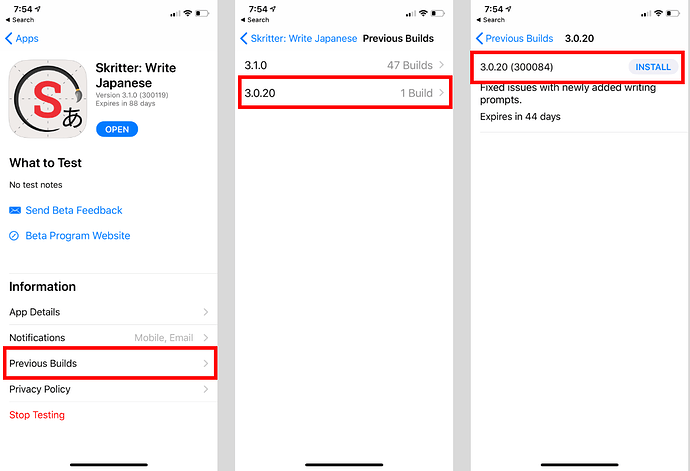 Updates to Android and Skritter: Write Chinese are coming soon. But we're going to take a little time to polish up what we've got so we can give all the apps the attention they need to work well in your hands.
Happy Skrittering, everyone. Stay tuned for more updates. This is just the beginning.
Jake and The Skritter Team