Skritter can be pretty lenient with stroke orders. In some case I can understand why (e.g. regional variations), in others it seems like it's condoning bad behavior. In theory this isn't a huge problem, except that sometimes your stroke didn't register, or your correct next stroke naturally looks more like a different correct next stroke, and Skritter decides you're drawing the character in a different order than you are. If you're going fast you often don't notice this for another stroke or three. Going back and trying to figure out where you and Skritter parted ways feels a lot like tripping over your shoelaces. I would much rather Skritter not trip me up when I'm getting things right, and punish me when I get it something wrong even though it's accepted somewhere else. But I realize there's no easy solution to that problem.
One set of characters where I encounter this a lot are the salty ones (

). The small but intricate 鹵 component in things like 鹽 and 鹹 is catnip for this problem. I've been testing out the new app, and 鹽 popped up. Like many times in the past, it went off the rails when I was zipping through the 鹵, but unlike in the past I was never permitted to make the missing stroke. The only path forward was to complete the character without finishing it: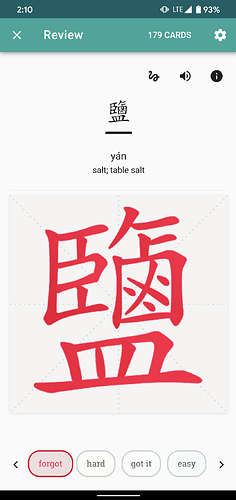 Problem #1: I don't think this should ever happen.
Occasionally, Skritter will completely lose its mind. The mis-recognized stroke will be so far off base it becomes a crazy guessing game to figure out what I'm supposed to do next. For example: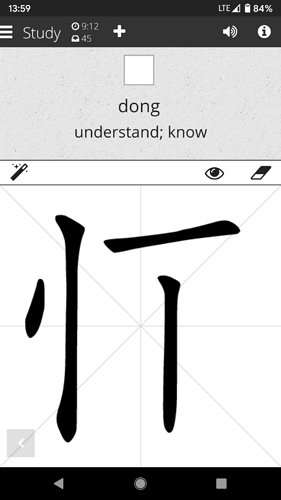 Problem #2: Somehow, before I finished the 忄 on the left, I ended up with only 1/3 strokes of the 艹 (wish that were 4), and then the 7th or 8th stroke of the 重. I'm pretty sure this isn't a valid stroke order, anywhere. Fortunately, unlike in #1, I was able to finish the character. This situation is also pretty rare.