Learn how to sync your Skritter and TCB accounts.
The Chairman's Bao Integration is Live:
We are thrilled to announce our new integration with TCB, a comprehensive news-based graded reader that provides authentic news content for Chinese learners. Their selection includes a wide range of topics from current events to culture and technology.
If you have both a Skritter and TCB account, you can sync your accounts so that words and phrases that you save on TCB will show up in a custom deck on Skritter. This makes it simple and convenient to review and practice your new vocabulary.
How to Sync Skritter and TCB Accounts:
Integration is quick and easy. First, go to your account settings, click on preferences, and toggle on Skritter's Integration and Auto Sync.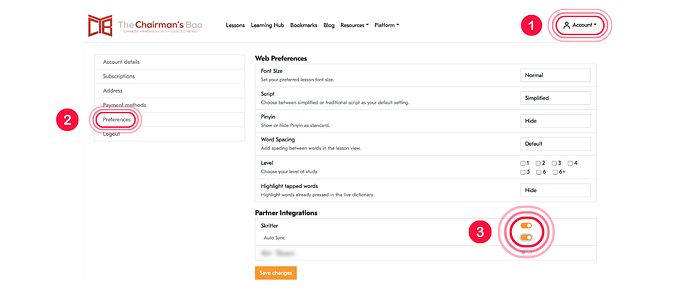 Then click "Yes, connect" and "Save changes" to finish the setup. The next time you save a word on TCB, a custom study deck will appear on your Skritter account.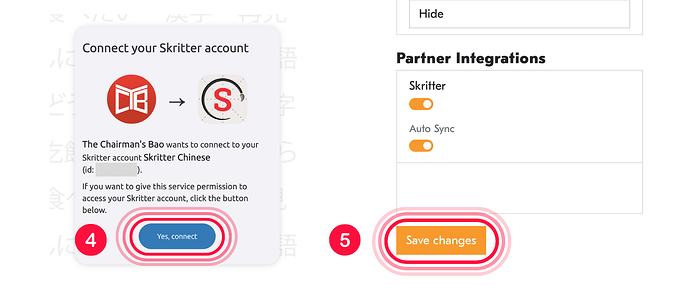 The Chairman's Bao Discount for Skritter Users:
Do you want to take advantage of this integration? First-time subscribers can save 15% on a premium TCB subscription by using the code SKRITTER on their website.
We hope you're as excited as we are about this integration! We're committed to making your language learning experience as seamless and enjoyable as possible, and we believe these types of integrations are a big step towards that goal.
As always, if you have any questions or feedback, don't hesitate to reach out to us here or at team@skritter.com. We're here to help you achieve your language goals. Happy studies!
-The Skritter Team