A new beta is out on Android and is "waiting for review" on Apple at the time of writing this post. Here's what's in the build, some notes on what to test for, and what to expect in the next few days!
Latest Beta Release Notes: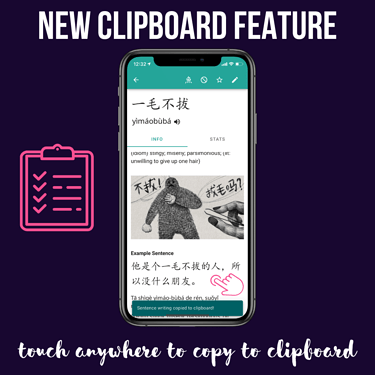 Added a much-requested copy to clipboard feature into the detailed info screen (happy tapping!)
Added tap-hold gesture support for Rawest Squigs as a "Check Answer" shortcut
App now displays an outline on deck items when they've been learned in another deck (read more below)
App now adds a new deck-id to already learned items if you copy an official deck for customization
General bug fixes and improvements
What to keep an eye out for & test
General loading speed when opening deck sections (especially larger decks where sections have 100-200 items). It should work okay, but please let us know if it is taking seconds to load deck sections when you navigate into them!

Tap-hold gesture for rawest squigs mode. This gesture is the same as tapping the "check answer" button below the canvas. Internally it has felt like a nice quality-of-life improvement to keep you in the writing flow a bit more. It should save a bit of range of motion for writing cards, and allow you to tap-hold and just tap again on the canvas to submit a grade of "got it."
Big question is… does it get triggered too much on accident?!? Let us know!
Learned items explained: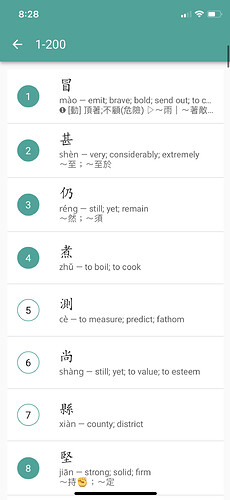 As items are studied and learned on the Skritter website and Skritter mobile apps they get associated with a deck or decks. If you've already learned an item from another deck, we don't usually force you to re-study it, but the new app also doesn't scan the entire deck in the same way Skritter.com or legacy apps do when you press the plus button or automatically add a word. So, these items you've learned don't get mapped to the new deck that they appear in (only the original) in the same way.
It's much more efficient this way, but it can cause some problems. So, we're addressing the issue in the patch. Not adding this update can actually have some pretty serious consequences. If, for example, you learn all the HSK 1-6 words from the HSK decks, but then suddenly delete or remove those decks from your account you would actually "lose" all those items until you relearned them again in other decks. NO FUN!
So, our solution is to have items you've learned in another deck on your account show an outline of a circle rather than a full circle until you've learned them in the current deck too (or skipped them via "mark as learned"). This means you will also now have the option of learning items again in the context of a specific deck if you'd like to.
In the next build or two, we'll also introduce a popup that triggers when you press the Learn and we detect that you have items in this state. The dialogue will allow you to mark everything as learned in one go immediately or learn them the same way you would a brand-new item in the deck. We'll also have the option to do the same thing at any time via the Deck Options menu.
Thanks for your patience while this addition gets included. If you don't like the flow, please revert back to production build 3.5.1 until we get this check and notification into the app.
Happy studying!