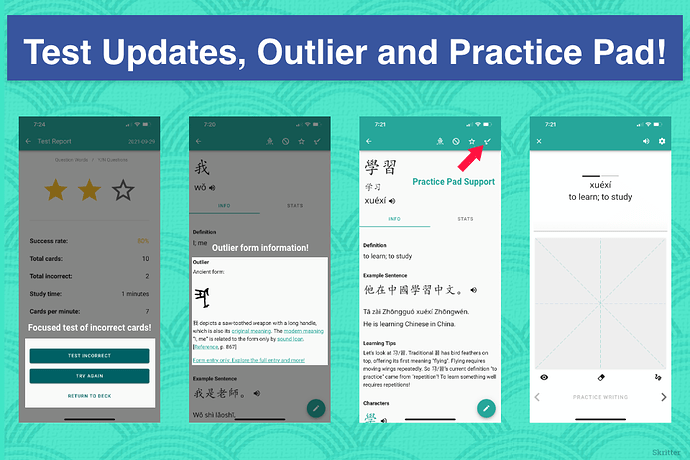 Hey y'all!
The 3.7.0 beta is out for testing, and we're super excited about some of the features and improvements in these builds. We're working on some final polish before this goes to production, but here are some things to be on the lookout for!
Outlier Chinese form data for 3000 characters
New Test Incorrect cards feature on Test activities
New Practice Pad writing feature on My Words and Info screen
Moved edit button position for easier access
General bug fixes and improvements
A note on Outlier data. We're thrilled to have the Outlier data as a part of Skritter's info screen. This data is provided generously by our good friends John and Ash at Outlier Linguistics 100% free during this trial-run period.
You can show your support for this partnership by clicking the links in the app and checking out their amazing courses on Chinese Characters, Mandarin Pronunciation, and by purchasing their full dictionaries (currently accessible in Pleco, which we have integration with) directly from their website.
It is our hope that we can also support the purchase of Essentials and Expert additions of their dictionary in-app in the future. In the meantime, enjoy these amazing entries for 3000 commonly used Chinese characters!
Hope you're enjoying the 3.7.0 beta!
Happy skrittering!